The number of InstaForex customers exceeds 500 000
Over half a million traders from all over the world are clients of InstaForex international broker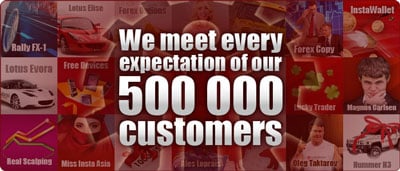 The sixth year of work brought InstaForex international broker another landmark figure: 500 000 traders from various countries of the world have registered accounts with the Company. Such an achievement is crucially important and remarkable for any organization, regardless of its specialization. This result has been achieved by InstaForex team by working hard every day, bettering the services and offering InstaForex customers the most reliable and effective solutions on Forex. Moreover, during the last several years InstaForex Company has introduced principally new technologies and systems to its clients. We mentioned just a few of the numerous Company's advantages which have brought it half a million customers.
InstaForex team expresses gratitude to every client for high estimation of our work, quality of the comprehensive services we provide and our innovative approach. All these factors have been prerequisites to your confidence and fruitful cooperation with you on the foreign exchange market.
Presently, InstaForex international broker is one of the leaders on Forex. This fact has been proven by many awards. InstaForex Company was titled the Best broker in Asia by World Finance (2009-2011), the Best Broker in Asia at ShowFx exhibitions in Singapore and Malaysia (2010 and 2011), the Best Retail FX Provider by European CEO and at Forex & Investment Summit in Abu Dhabi (2011) and so on and so forth.
Thank you for having chosen InstaForex as your broker and for being one of our 500 000 customers! We are together which means there are no unattainable goals!